Nishikigoi no Sato

Open
March -- November    9:00 A.M. -- 6:00 P.M.
December -- February   9:00 A.M. -- 5:00 P.M.

Closed
January 1 -- 3, December 29 -- 31
*Nishikigoi no Sato may be temporarily closed on account of conditions of Nishikigoi in our facilities. We will place an announcement on such an occasion on our website.
Admission Fee
Classification
Individual
Group (over 20 people)
Over 15 years old
JPY 510
JPY 410
6 -- 15 years old
JPY 300
JPY 250
Under 6 years old
Free of charge
Free of charge
One-year Pass
(for Ojiya citizen)
JPY 1,030
*Those who holds a certificate for disabled, undergoing medical treatment or mentally handicapped is free of charge, upon showing a relevant certificate.
(since July 1, 2002)
Nishikigoi no Sato Brochure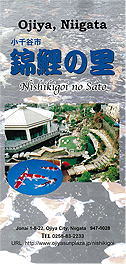 Our brochure is downloadable.
English and Chinese versions available Click
here
to download ...PDF format:1.5MB
Access Map
1-8-22, Jonai, Ojiya City, Niigata 947-0028 Tel/Fax: 0258-83-2233
Others
Free Guiding of the Facilities
Our staff will show you inside the facility and offer explanations of the Nishikigoi on display upon request in advance.
Appreciation of Nishikigoi via Videos
We hope our visitors also enjoy watching the process of Nishikigoi breeding, shipping and various aspects at koi shows on videos.
We provide you with them in three languages; English, Chinese and Japanese.
Sale of Koi Food for Feeding Experience
Feeding Nishikigoi can be experienced for 100-yen (for one feed of fish food).
Subject to the Nishikigoi's health condition, this program will be suspended.
Please check the information on our website. During Golden week holidays, which are held right after the Nishikigoi's itinerant period, our staff will feed the Nishikigoi at fixed times while giving our audience an account of the method.
Wi-F
High speed Internet service is available through our Wi-Fi outlet. Our site can be easily accessed wherever a terminal is communicable with Wi-Fi.